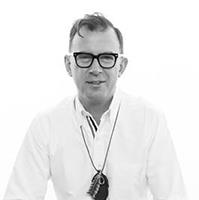 Andrew Lande-Shannon
Senior Director, Store Experience
Madison Reed
Andrew is a natural leader who has a gift for creating visual and interactive experiences that draw people in and create lasting impressions. He is a Creative Director with 30 years of experience within a range of companies: high growth startups, turn-around environments and established brands — across digital and physical retail platforms — in North America and Europe.
Before joining Madison Reed in early 2018, Andrew held senior-level creative director and visual merchandising positions at respected retail fashion brands such as BirchBox, Joe Fresh, J.Jill, Prada and Theory. Earlier in his career Andrew worked in visual merchandising at UK retailers Mexx, Kookai and Next.
At Madison Reed, Andrew has led the store experience initiative as the company has expanded from opening its first Color Bar in New York City in 2018, and now will oversee the design for the more than 600 Color Bars (both company-owned and franchised) that are planned over the next four years. Madison Reed is the first digitally native vertical brand (DNVB) to use the franchise business model as a growth strategy to meet customer demand for local brick-and-mortar retail.
When not creating beautiful and functional store environments and innovative customer experiences, Andrew counts equestrian riding, his daily meditation and yoga practice and time spent with his family enjoying nature among his most rejuvenating activities.
Andrew is a graduate of West Sussex College of Art & Design and the University of London.
6/10/2020 2:40 PM