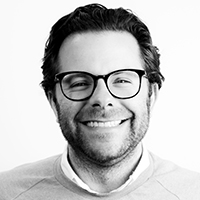 Ethan Goodman
Senior Vice President, Commerce Media & Innovation
The Mars Agency
Ethan is a renowned marketing strategist with deep expertise in digital and shopper marketing. He has been named a "Young Influential" by Adweek magazine (2012), a "Who's Who in Shopper Marketing" by Shopper Marketing magazine (2016) and a "Faculty Member" by the Path to Purchase Institute (2017), and is a frequent speaker at industry conferences and contributor to industry publications.
He is currently Senior Vice President of Commerce Media & Innovation at The Mars Agency (TMA) – a top shopper marketing agency. In this capacity, he leads a team of planners, buyers and technologists in creating revolutionary shopper experiences that drive engagement and sales for blue-chip CPG and retail clients.
Prior to taking on that role, he built, grew and managed TMA's E-Commerce and Digital practice groups. He was also Managing Director of Griffon Ventures, the agency's venture capital arm that invested in and partnered with promising "MarTech" startups to drive innovation for key clients. He also spent 4 years at Leo Burnett | Arc Worldwide, devising and implementing breakthrough digital strategies for Fortune 100 clients like Procter & Gamble.
He is a proud graduate of the Stephen M. Ross School of Business at the University of Michigan (BBA '05), a devout Michigan sports fan and an avid skier. He currently resides in Ann Arbor, MI, with his wife Jodi and son Micah.
6/10/2020 2:00 PM