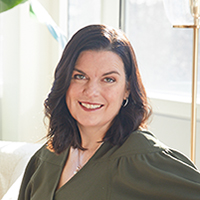 Joan King
Senior Vice President, Ecommerce & International
Crate and Barrel
Joan King is the Senior Vice President, Ecommerce & International at Crate and Barrel Holdings, a global home furnishings retailer with nearly $2 billion in sales across 10 countries. She is responsible for the development and implementation of Ecommerce strategy, with full responsibility for the channel.
At Crate and Barrel, she directly leads the digital customer experience, product management, SEO, design, site merchandising and digital strategy teams. Her team is responsible for delivering a seamless and inspirational digital experience across Crate and Barrel's brands on all devices, apps and in-store solutions. She also oversees International Strategy and Operations, helping to accelerate international omni-channel capability for Crate and Barrel brands.
With a passion for customer centered design, Joan joined Crate and Barrel in 2001 as an Information Architect. As the business grew, Joan helped build key ecommerce functions, leading analytics, AB testing, SEO, brand marketing and merchandising, and digital strategy and product management.
Prior to Crate and Barrel, she built and managed the UX team of Organic Online's Chicago office, where she led the design of many first-generation commerce web sites.
She has a BA in English from Boston College, an MA in Writing from DePaul University and has completed all coursework towards her Ph.D. at the University of Illinois in Chicago.
6/10/2020 9:00 AM