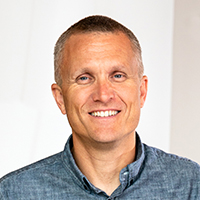 Mark Carson
President & Co-Founder
Fat Brain Toys
Mark Carson is the President and Co-Founder of Fat Brain Toys, a vertically integrated toy company that develops toys and games that inspire learning through play.
Mark's introduction to the toy industry came about at the suggestion of his then 10-year old son, Adam. In the Fall of 2002, after finding it difficult to locate specialty toys online, his son suggested that they build their own website to better serve the growing demand for toys online. As the CTO of an e-commerce start-up at the time, Carson accepted the challenge from his son and thus began a new career in the toy industry.
Since 2002, Fat Brain Toys has developed into one of the fastest growing toy brands in the country. Recognizing the importance of a true multi-channel experience, Fat Brain Toys has since expanded into brick & mortar retail, opening retail store experiences in Omaha, Nebraska and Overland Park, Kansas. In addition to the company's direct-to-consumer efforts, the company also designs and wholesales it's own unique line of products to over 2,500 retailers around the world.
Mark has been married to his wife and business partner, Karen, for 27 years, and lives in Elkhorn, Nebraska with their three children, Adam, Makenzie and Jenna.
6/10/2020 3:20 PM