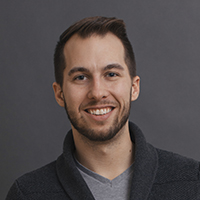 Mike Schulz
Associate Creative Director
Gorilla Group, a Wunderman Thompson Company
Mike Schulz is a creative lead, providing data-driven solutions that blend both industry expertise and innovative thinking for multi-channel experiences.
His expertise in user research, user experience, visual design, and art direction allows him to work across multiple disciplines to craft leading experiences that drive conversion and grow the holistic brand experience. He has his MA in Digital Communication and Media Arts from DePaul University and acts as the day-to-day creative lead for Gorilla Group, a Wunderman Thompson Company.
Mike lives in Chicago, IL.
6/8/2020 10:15 AM