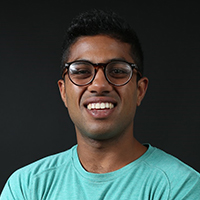 Nathan Kondamuri
Co-Founder and Co-CEO
PAIR Eyewear
As Co-CEOs and Co-Founders of PAIR Eyewear, Sophia Edelstein and Nathan Kondamuri are reinventing the entire glasses experience to be more empowering and fashionable for kids, while affordable and stress-free for parents.
While at Stanford, Nathan shared his awful experience of wearing glasses as a child with Sophia. They wondered, why hadn't anyone redesigned glasses from a static medical device to be more fun and dynamic? After talking to over 400 families, they discovered (unsurprisingly) that kids don't enjoy wearing glasses, and parents dreaded the expensive and stressful process. Compelled by the stories they heard, Nathan and Sophia decided to reinvent the eyewear experience.
Combining their backgrounds in marketing, healthcare, and engineering, Nathan and Sophia hatched PAIR in their senior year. They brought on the former head of product from Warby Parker to lead product development of their frames which allow kids to continually customize the look of their glasses. In the same way children can change their shoes and clothes, PAIR allows kids to express themselves through their eyewear. Through an expanding selection including limited edition and licensed designs, PAIR is transforming glasses from a one-off purchase to an affordable and customizable ecommerce product with repeatable spend. Plus, to help the hundreds of millions of children who don't have access to vision care, Nathan and Sophia built their Pair for a Pair program, which brings eye care to children in developing countries.
Since bringing PAIR to consumers, Nathan and Sophia have hired a team of seven and raised over $3.15M dollars in VC funding. PAIR has been featured on Good Morning America, CNN, CNBC, Shark Tank, Forbes, and Oprah Magazine as the new go-to children's eyewear brand.
6/10/2020 11:35 AM