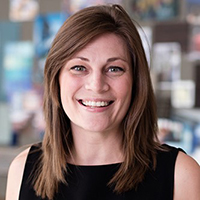 Robyn Novak
Vice President, Creative Managing Director
FRCH Design Worldwide
As a design leader on the development of multiple domestic and international brand experiences, Robyn creates retail environments that leverage consumer insights and progressive design thinking. She leads a team of retail strategists and designers to develop unique experiences ranging from first generation retail to scalable design solutions for some of the world's biggest brands.
From retail strategy through conceptual design and documentation Robyn's philosophy is to master form and function in every design solution. She integrates documentation and resource design partners to insure design intent is maintained throughout the design process. Robyn is a frequent speaker at industry events. She is a former PAVE Rising Star, VMSD Designer Dozen and Design:Retail's 40 Under
40 award recipient. Robyn is also a LEED accredited professional, a member of the ARE Dream Team and a member of RDI.
Robyn's professional experiences include Tiffany & Co., Luxottica, Aveda, O Boticario, Macy's, Procter & Gamble, J. Crew, UltraFemme, Mercedes Benz, Stride Rite, Johnson & Johnson, Tiffany and Co., Hush
Puppies, Sprint, T-Mobile, Samsung, Ballard Designs, and Frontgate.
6/10/2020 10:55 AM