8:00 AM - 9:15 AM
Type: Keynote|Room: Great Hall
11/03/2019 8:00 AM - 9:15 AM
Speaker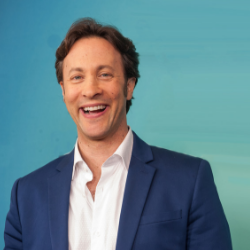 Neuroscientist, Inventor, Host of PBS's The Brain and Author
K01 - Welcome and Opening Keynote - Livewired: How we transform the world through human creativity
Taking the lead in innovation requires wrestling with a three-headed problem: the future is hard to foresee, most ideas die, and great concepts don't last. So what does it take to function creatively in the way you design? Stanford neuroscientist, best-selling author, and television personality David Eagleman translates brain science into actionable advice for generating new ideas and staying ahead in rapidly-changing environments, such as health care. Using a variety of examples from the business and design worlds—and the neuroscience that animates them—he breaks down the innovation process and helps understand how to avoid cognitive ossification.
12:00 PM - 1:30 PM
Type: Keynote|Room: Great Hall
11/03/2019 12:00 PM - 1:30 PM
K02 - Healthcare Design Awards Luncheon
Open to all attendees, Healthcare Design magazine will honor the winners of its annual competitions during this luncheon. Editor-in-Chief Jennifer Kovacs Silvis will introduce the most recent winners of the Design Showcase, Remodel/Renovation Competition, and the Rising Star Awards and share details on their impressive achievements.