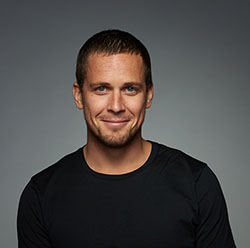 Zak Normandin
Founder & CEO
Iris Nova (Dirty Lemon/The Drug Store)
Zak Normandin is an award-winning entrepreneur disrupting the way businesses create, communicate and deliver consumer goods. He has spent his career gaining invaluable experience as a product designer in the food and beverage industry and is credited with branding more than 30 nationally available products.
Zak has a unique understanding of the way people, brands and technology interact. As Founder and CEO of Iris Nova, the parent company of DIRTY LEMON and The Drug Store, he is reinventing the traditional CPG business model and leading the future of beverage consumption.
The Iris Nova platform utilizes shared technology, operational infrastructure, fulfillment, and data across a curated portfolio of beverage brands to bring innovative concepts to market quickly. The proprietary platform allows each brand in the portfolio to communicate directly and transact with customers over text message, bypassing existing distribution inefficiencies to improve how consumers find and purchase beverages. Iris Nova first introduced its platform in 2015 to launch and scale the DIRTY LEMON brand. Normandin is building the beverage company of the future, expanding his innovative distribution strategy to a portfolio of brands under Iris Nova that meet the rapidly evolving preferences of the modern consumer. The portfolio has since expanded to include an experiential retail property, The Drug Store, which pairs a cashierless shop with a private lounge, and five portfolio brands.
6/9/2020 10:30 AM